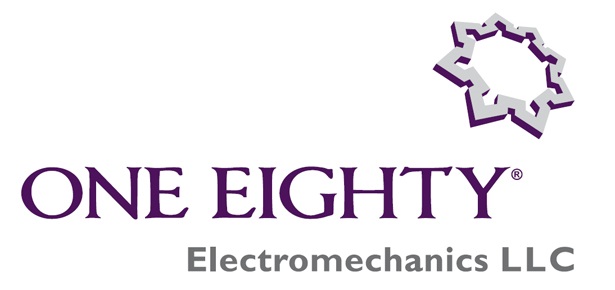 ONE EIGHTY
ONE EIGHTY is one of the leading MEP Contracting Companies in Syria with a project portfolio consisting of Hotels, Malls, Hospitals, Public and commercial sectors.

In addition to MEP Contracting, ONE EIGHTY has established related trading businesses that complement its core activities. The focus of the Trading business is HVAC and Electrical Equipment.

ONE EIGHTY is continuously working on improving its quality of work and services. We are ISO Certified Company for Management System and soon for Health and Safety.

"Excellence is what we are looking for and Excellence is what we are aiming to deliver."





HISTORY
Founded in 2009, ONE EIGHTY managed to become one of the leading end-to-end contracting companies in Syria providing Mechanical, Electrical and Plumbing (MEP).

The company's expertise in mechanical, electrical and plumbing (MEP) contracting spans from providing complete solutions through Design and Build, to Engineering Procurement and Construction (EPC), across the Syrian territory, as well as maintenance.

ONE EIGHTY's fully Integrated Management System ensures full compliance with building, health and safety regulations.

Our expertise has made us market leaders in providing technical and support services to the private and public sectors. With the experience and support of a dedicated, professional workforce, our performance-based services, combined with our expert knowledge, processes and systems, help customers achieve optimum asset performance.
MISSION, VISION & VALUES
Mission
To cover the market needs for comprehensive MEP solutions through high quality delivery, on time completion and tailored approach to each project.
Vision
To Be Market Leader in Syria
To Penetrate Regional Markets
To Establish Winning Long-Term Relationships with Diversified Clients
Values
Transparency
Safety
Teamwork
Time Managment
Employees Appreciation
Social Responsibility
QUALITY
ONE EIGHTY believes strongly in Quality at work as a way of preventing mistakes or defects and avoiding problems when delivering services to customers.

Therefore, One Eighty Obtained and implemented the ISO 9001-2008 for Management System to create a confidence among our customers in the capability of our processes and the reliability of our services.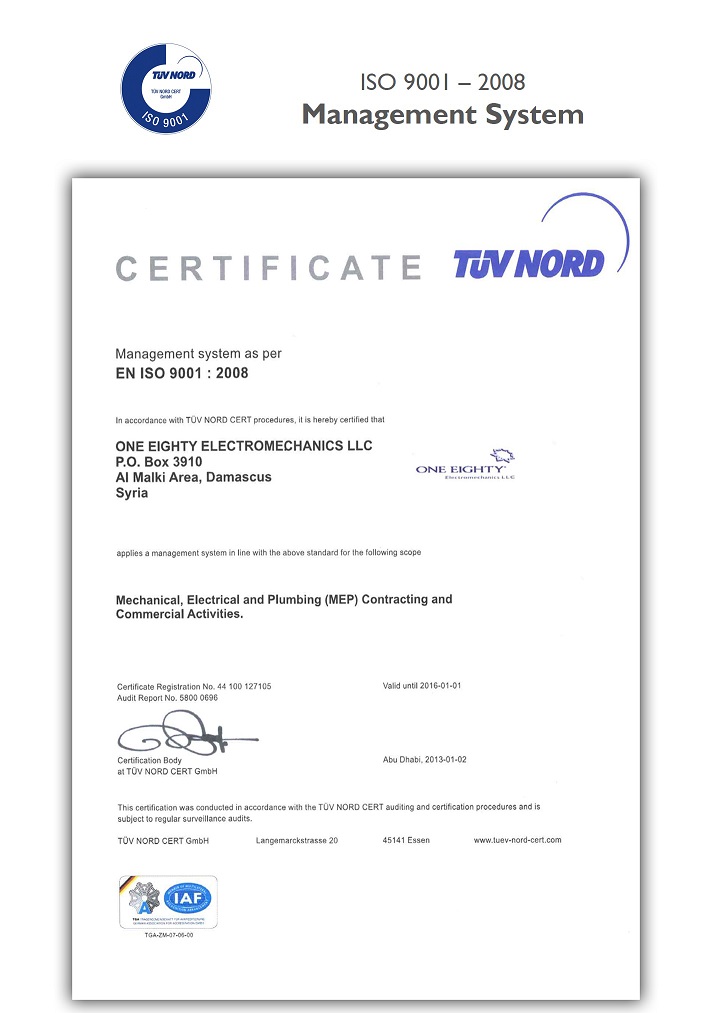 ORGANIZATION CHART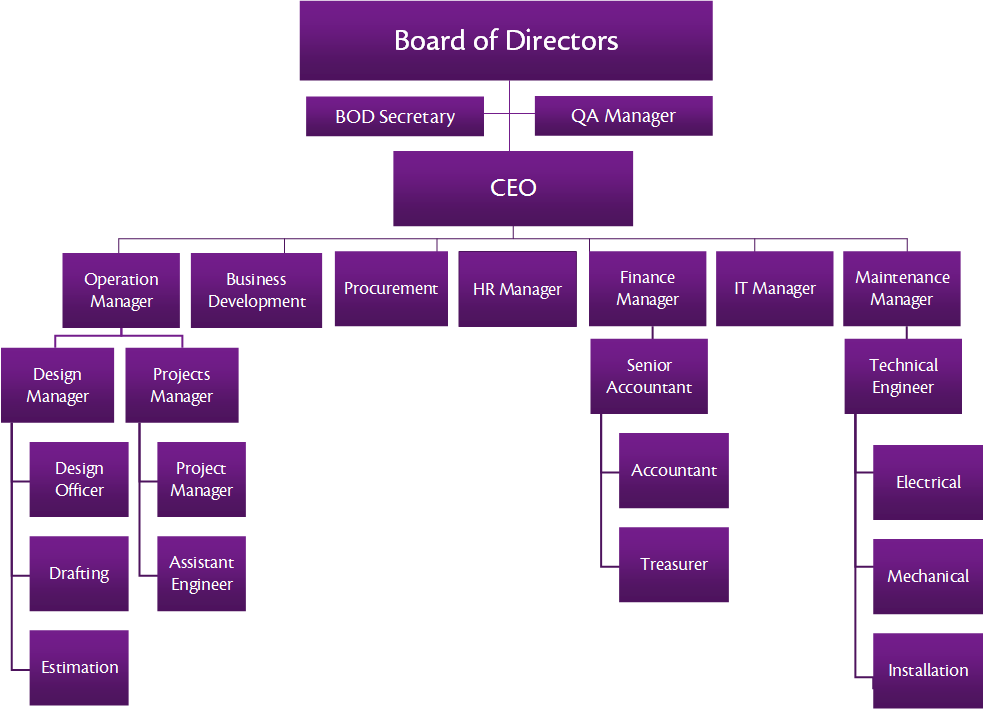 CSR
Part of ONE EIGHTY's philosophy is the commitment to behave ethically and to contribute to sustainable economic development in Syria, working with employees, the local community, and society at large to improve their quality of life. Based on that, ONE EIGHTY is carefully and constantly looking for opportunities to help our people and Society improve.
TKIEH SHOPS
Feb. 2015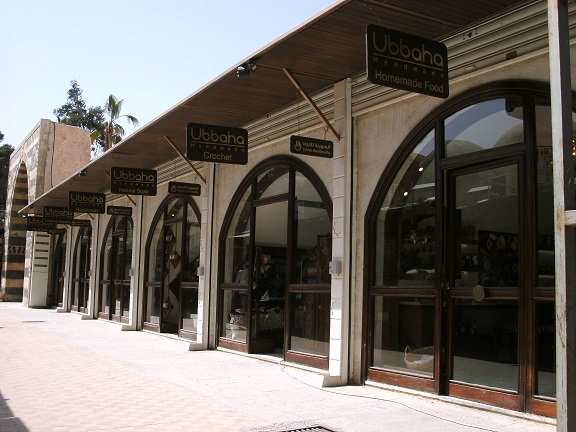 Our First Project was a donation in the form of free work to Rehabilitate and Decorate 6 Historical shops in Tkieh Sulimanieh in Damascus




MEP
ONE EIGHTY is a major MEP contractor providing design, procurement, installation, commissioning and maintenance of mechanical, electrical, and instrumentation.
Electrical
HV and LV switchgear and transformers.
Power generation systems.
Lighting and small power systems.
Earthling and lightning systems.
UPS and battery systems.
CCTV, telephone, door access and security systems.
Building management systems.
Public address systems.
Cabling.
Main Distribution Boards, Sub Main Distribution Boards.
Mechanical and HVAC
Heat Load Calculation.
Selection of equipment and Energy Conservation in terms of savings in power.
Building automation (BMS), etc..
Water, Waste Water, Compressed Air Systems
Pumps and pumping stations.
Air conditioning and ventilation.
Ducts
Plumbing and drainage services.
Instrumentation
Installation of instrumentation equipment.
Instrumentation cabling.
Instrumentationpiping.
CONSTRUCTION
ONE EIGHTY expanded its core business in 2013 to add a Construction Department to its existing ones focusing on rehabilitation projects in the Syrian territory. By 2015, ONE EIGHTY managed to expand its Construction Department to cover Rehabilitation as well as Renovation work for all types of projects.

ONE EIGHTY Construction Department has evolved with its growing organization and acquiring clients from government and high-profiled private entities. ONE EIGHTY Portfolio grew due to the increasing demand on construction and development projects such as Office Buildings, Banks, Shelters,..

To do so, ONE EIGHTY is always committed to the highest quality standards at work through very skilled workforce and safety procedures.
TRADING
ONE EIGHTY has established related TRADING Businesses that Complement its core activities. The focus of the Trading business is HVAC and Electrical Equipment.
Partners

MAINTENANCE
As part of ONE EIGHTY 's commitment to excellence, we offer our clients preventive as well as corrective maintenance Contracts through regular visits and systematic management approach.
Maintenance services includes:
Preventive & Corrective Maintenance
Spare Parts & Inventory
Installation
Renovation


News
Launching Our New WebsiteJul. 2015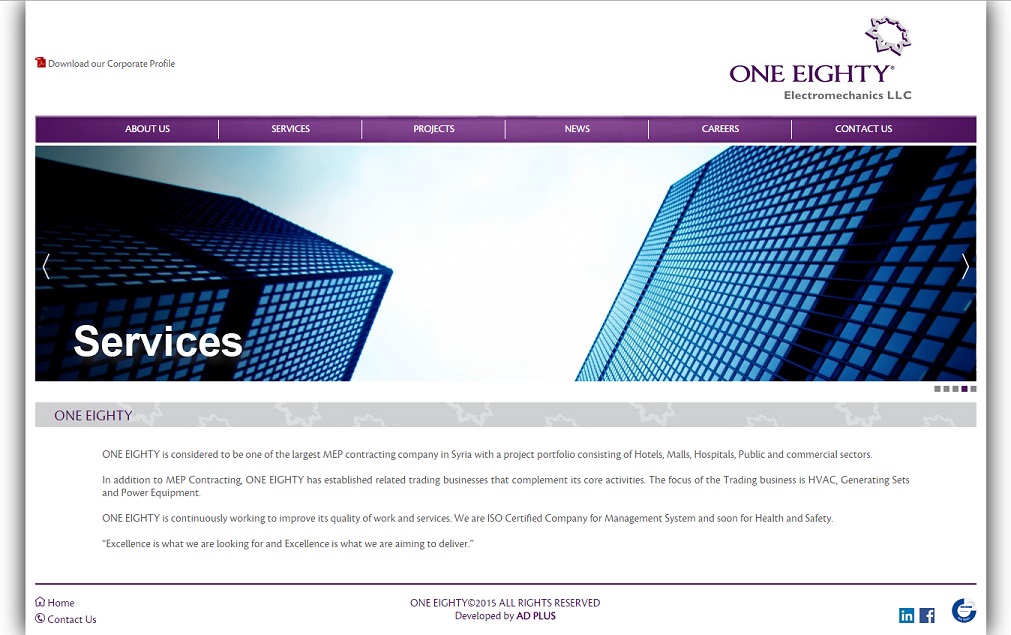 As part of our commitment for continuos improvement, ONE EIGHTY has launched its new website covering all aspects of our company with more comprehensive and detailed information.

CAREERS
We invite you to explore exciting opportunities to work in a reactive team where your skills and enthusiasm can lead to outstanding results.
One Eighty Headquarter
P.O.Box : 590
Damascus, Syria
Tel :
+963-11-333 222 4
Fax :
+963-11-333 598 4
e-mail: info@180mep.com

CONTACT US
One Eighty Headquarter


P.O.Box : 590
Damascus, Syria
Tel :
+963-11-333 222 4
Fax :
+963-11-333 598 4
e-mail: info@180mep.com